Hi Care Safety answers for battling the fire are of worldwide guidelines and have various surfaces and attitudes. Nomex is one texture that is utilized to make such suits; it is light in weight, woven firmly and is made out of engineered fiber.
The way that a modest quantity of air is additionally not permitted to go through makes the Fire Fighting Suit makes it considerably more fitting. The application might cause a legitimate scattering of the internal perspiration or may even help some cooling liner.
Hi Care Safety Solutions are the just one-of-its-sort fire wellbeing outfit producers in India. It truly assists with acquiring experience by serving a plenty of businesses like the engine hustling, carriers, firemen and so forth
We are provide a Fire Fighting Suit, Fireman Jacket & Trouser Specification
Our Outer shell 6.0oz NOMEX III A Fabric. Composition: 93% meta Aramid, 5% Para Aramid, 2% Anti Static Property for better Abrasion Protection. Aramid/aramid non-woven laminated with PTFE membrane for maximum breath ability and hydrostatic head (waterproof) performance. Constructed using non-woven ARAMIDE aramid fibers laminated with Nomex/Viscose innermost ling fabric for maximum protection. We are effectively Complete Suit consists of coat pant shoes gloves hood with Fireman helmet IS2745 Standard approved. We are giving you Fireman Helmet Specification Standard CE EN443. Fire Fighting Suit Performance is lame-Retardant Shell / Interior Basket / Chin Strap, Puncture Resist, Retractable PC face protector, Neck protection, Reflective And Luminescent stripes, Adjusting head, the Possible wearing of the protective mask under visor; Easy to operate and Spare parts available. Next is Fireman Gloves Specification of The upper material is hide split with special treatment against high temperature, penetration of water and oils. Another function of this leather treatment is resistance against mechanical risks. The next layer is the composition of technical aramid and Nomex that increases resistance to heat, abrasion, and cutting. Knit wristband is made of aramid. The gloves are tested and certified according to EN 659:2004 A12008 - Protection gloves for firefighters. Fire Fighting Suit Fireman Boot Specification of Material Vulcanized Rubber & Sole Certified to EN ISO 20345 & EN 15090
General Specifications of Fire Fighting Suit All Products :
100 percent Cotton material and checked for FR
Several pockets at the front bearing snap securing.
Several pockets across the sides
Several fix pockets that are straightly scaled at the back having Velcro/Snap as conclusion
An instrument pocket helps in conveying the crucial apparatuses and supplies
The sleeve at the left side has a Pen pocket for getting to a pen when required Versatile midriff - guarantees further developed solace and better piece of clothing fit
There are different systems that the makers like Hi-Care Safety Solutions adjust for washing the Aluminized outer surface of the Fire Fighting Suit. Strategy number one is to placed the Aluminized outer shell on a level surface (of a table) and with a sensitive wipe doused course of action wipe the surface off and with a second fragile wipe retaining simply water flush the outer layer of cleaning plan.
Hi Care Safety Solutions is also manufacturer, supplier and exporter of Fire Fighting Suit and all related products in Mumbai, India. If you want this products please quote now.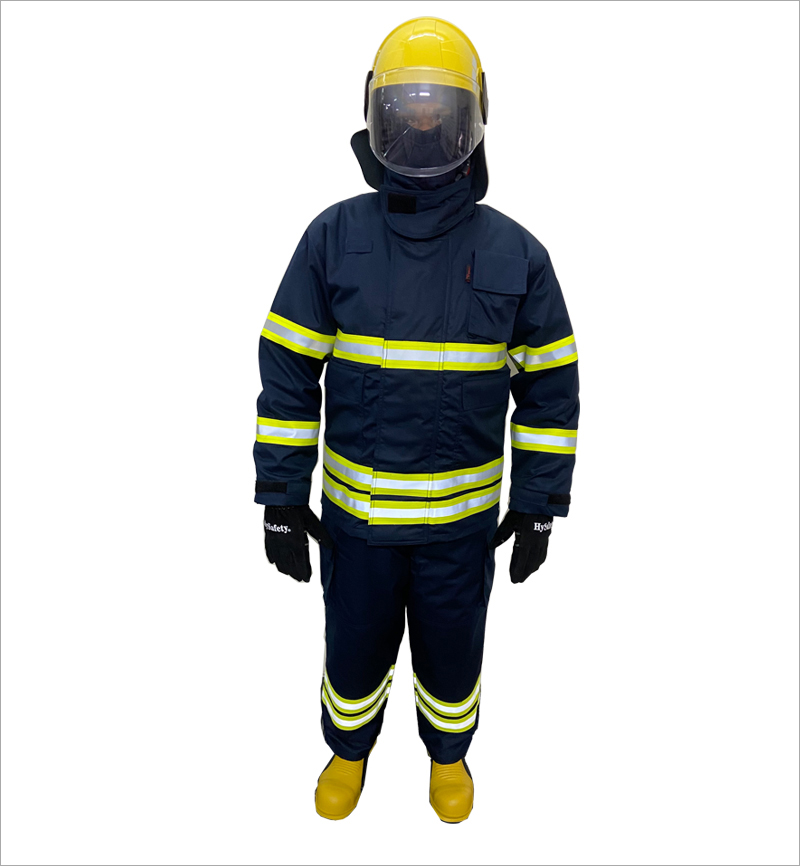 ×