Description
Aluminized Hand Gloves are in high demand in various type of heat works. These Aluminized Hand Gloves are in high demand in fire control, fire resistant, as insulator for a range of gloves equipment, hand gloves processing industry, medical industry and more. Hi Care Safety Solutions has been catering to the demand of Aluminized Hand Gloves for these industries.
We are work on Front and back portion of gloves Made out of heavy duty split leather with 480 GSM Aramid fabrics on palm. Economical solution for heat resistant up to 350C in replacement of Asbestos material. Hi Care Safety Solutions highly Tested and Certified to EN 388 & EN 407.
The Safety Gloves from the place of Hi-Care Safety Solutions have been helpful all the time at impeding wounds. Crisis administrations make it compulsory for their laborers to wear gloves while serving under different limits at both modern and clinical fields. However, the inquiry that frequently stays unanswered is - are the workers utilizing suitable gloves Is it precise to say that they are wearing a few inadmissible gloves, and accepting this is the situation, how might they think that it is out Maybe there is anything but a solitary straightforward response.
In both the mechanical and capable spaces, workers need gloves that give different degrees of confirmation. For example, the fire avoidance specialists might require Aluminized hand gloves that notwithstanding the way that hotness is protected get artificially protected as well.
Hi Care Safety Solutions are the just one-of-its-sort fire security outfit makers in India. It truly assists with acquiring experience by serving a plenty of businesses like the engine hustling, air crafts, firemen and so on
Specifications of Aluminized Hand Gloves :
You Can Effectively Insulation in our hand.
Easy to sealing procedure
You Can Simply Clean of Aluminized Hand Gloves
Checked and certified material
Strictly meant for use of safety workers
Extra Breath ability
Minimal price tags
Preset Usage Guidelines
Easy Passage of Heat
Various web-based assets have demonstrated extremely successful in clarifying and instructing well-being laborers in general. Hi care safety solutions are a well-being outfit maker that tends to all questions other than addressing the requirements of that odd hour. Other than furnishing the firemen with security outfits like coats, it additionally furnishes them with frill like the Aluminized hand gloves.
Made From 650 GSM Kevlar Fabric on palm and Aluminized Aramid Fabric on both side of hand
With inside Multiple layer of insulation for higher heat resistant
Temperature withstand up to 1000C
Size: 12" to 22"
Tested & Certified to EN ISO 11612 A1 A2 B2 C1 C4 D3 EN 388 :EN 407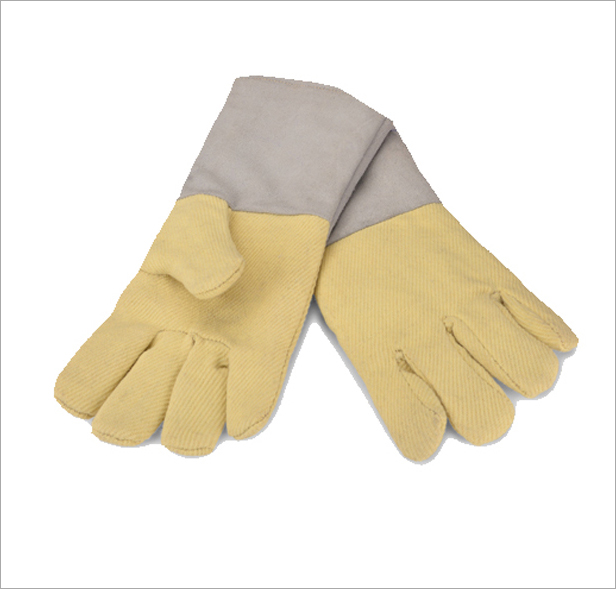 ×