Hi-Care Safety Solutions manufactured of safety jackets. It can be purchases in combination of the light-weight and ultra-thin versions or separately. Under ambient temperatures of up to 93°C, the Aluminized jacket protects the user from molten metal splash and sparks.
Hi Care Safety Solutions Aluminized Jacket Made out of 16 OZ imported Aluminized glass fibre fabrics with having 90% reflection of heat as outer layer.
We can Additional Middle Layer of Vapour barrier.
We provide Inner layer Thermal Barrier is used for higher temperature.
Stitched with aramid thread.
Determinations of the Aluminized Jacket
Size : 32"
Coat Type : Coat comes with front zip & Velcro
Additional protection and solace
2-layered turn of events
Safe association with hot steam, gas, or liquid
Custom sizes are available
Limits fire expansion
Negligible sticker prices
Preset Usage Guidelines
Simple Passage of Heat
The X20 Aluminized Jacket incorporates a Z-Flex Aluminized Fiberglass outer shell with your choice of a release retardant cotton liner or a neoprene rage impediment liner. The neoprene liner is recommended assuming that the customer might connect with hot steam, gas, or liquid. The X20 Aluminized Jacket is available in 2 lengths: Long (50 inches) or Standard.
The X10 and X20 Aluminized Jackets both game a tight neck area, snap terminations down the front, and set-in sleeves with snaps on the sleeves for adaptable length. The Aluminized coat delivered by Hi-Care Safety Solutions is open in 2XL or medium sizes. Custom sizes are moreover open for an additional a charge.
The element of restricting fire multiplication may be jeopardized in the event that the devices are contaminated with flammable things. The equipment doesn't offer confirmation against electric paralyzes. The keeping effects of the stuff may be affected assuming there is water or sogginess like that in sweat.
The Cycle of Service Life abstain from squeezing; keep away from coloring; abstain from washing; keep away from machine wash; never allowed it to tumble dry. After each utilization, the specialists at Hi-Care Safety Solutions check the conditions of the Aluminized jacket obviously. Kill any waiting things on the Aluminized surface with water, fair-minded cleaning agent, and if significant with chemicals.
Hi Care Safety Solutions one of the best Aluminized Jacket manufacturer, Aluminized Jacket exporter and Aluminized Jacket Supplier in Mumbai, India. If you want this product please quote now.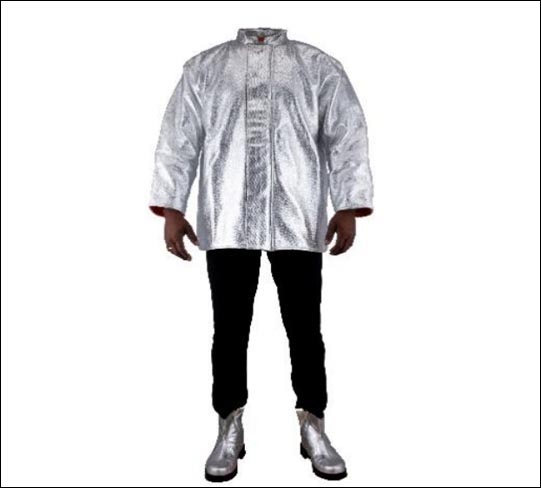 ×